Quality Control
We offer peace of mind through our stable management system.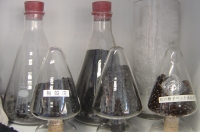 From inspection of raw materials, to the analyzation and checking of our products for standardized quality, we make sure to deliver you the best product.
Processed from the pine seed into product
Pine nuts OIL

The pine nut oil can be extracted without losing its nutrition through our unique process. Fatty acid that is exclusively found in pine nut oil, pinolenic acid, is expected to work for cell activation, anti-aging, atopic dermatitis, burns, athlete's foot, bedsores and more.


Pine nuts EXTRACT

SPN is the essence extracted from the pine nut shell. By activating white blood cells and boosting immunity defense mechanisms, it is effective for fighting viruses and cancer. The polysaccharide of SPN effectively combats the viruses of both the flu and AIDS.