No preservatives, No artificial color, no chemical additives.
100% natural "Emu Oil"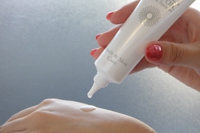 Emu oil was a secret medicine for the indigenous people of Australia dating back to nearly 40,000 years ago. Emu oil has a history and is still used today for a wide range of purposes such as dressing a wound, acting as an anti-inflammatory, reducing muscle pain, and treating burns and bruises.





It is a high quality and valuable oil which is closely monitored.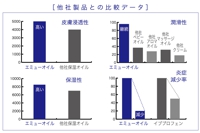 Our contract ranch has no residual pesticide found, and received the "Emu Possession License" in all areas of rearing, processing, and producing.For rearing, we don't use any antibiotics, growth agents, or transgenic grain feed at all.Also, our emu oil is of the highest quality and is produced by the patented "OILTEC method" without using any chemical additives.It is registered in "TGA(ARTG)" (TGA = Therapeutic Goods Administration, ARTG = Australian Register of Therapeutic Goods) and MINS, which is authorized by the Australian government as a product of reducing muscle and joint pain, improving skin condition, and lowering cholesterol.

No preservatives! No artificial fragrance or color! No chemical additives!
This high quality oil is produced by our special patented method
Approved as pharmaceutical/dietary products by TGA/ARTG
World class quality control recognized by GMP and traceability management
Massage oil recommended by professional athletes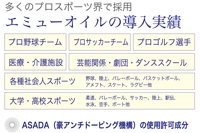 Our emu oil is supported by trainers who are assisting professional athletes competing in vigorous sports like baseball and even the Olympics. In Australia, it is permitted as a pharmaceutical medicine, and used for massages at many gyms, skin care clinics, hospitals, and other medical and fitness facilities.

Used for warming up or cooling down
For shoulder pain and stiffness in arms
For use with joint pain, lower back pain, stiff muscles, and more.
Used for a wide range of skin care such sensitive and dry skin.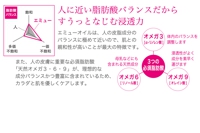 Emu oil's greatest feature is it's high affinity with our skin due to the extremely familiar balance of human sebum. Contained within the oil is the natural ingredient omega-6, which is essential for healthy human skin. This is designed to gently care for the body and skin.
Recommended of use after washing face or bathing, apply conservatively and massage gently until fully absolved.


Because of our natural ingredients, all members of the family from babies to elders can enjoy it together.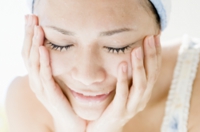 Supplied with moisturizer for sensitive and dry skin
It must be lightly applied to a small portion of the dry or sensitive area. This may include eczema or rash. Please be careful not to irritate area and avoid any scratching to prolong the moistening effect on the skin.

This product can be used along with your other daily cosmetics.
Use instead of face cream after priming skin with lotion. For proactive care, apply it to the facial and forehead areas that need attention. Gently massage.

Protects against the cracks on heels and other outer layers of skin
After bathing, apply the oil and rub gently on the target area. Moisture is restored and you can expect improvement. Increasing usage up to several times a day after bathing or before going to sleep will intensify results.

Our product also prevents baby's diaper rash and/or bedsores received during nursing care.
Our Emu oil is 100% natural and contains zero preservatives, artificial coloring, or any additives at all. It may be used for the prevention of heat rash, or diaper rash for babies who sweat profusely or have developed bed sores during nursing care.